Where is Central Snowsports located in Hakuba?
With these locations and our FREE Guest Shuttle we have you covered everywhere in the Hakuba Valley. Three stores all have direct snow access and our Echoland store is located perfectly for guests in that area.
There is also customer parking at each location. Current opening hours can be found using these google links.
Happo Store, 100m down from Gondola, Happo-One
Koharu Store, opp Sakka Lifts, Sakka Area, Wadano
Echoland Store, Hakubaya, Echoland Main Street.

How do I make use of the Central Snowsports FREE Guest Shuttle?
This service is available to all guests, pre booked or walk in.
Call when you are ready to be fitted, 0261 85 0506 (+81 261 85 0506), we will organise to collect you from your hotel. Please be ready for us at the front of your building so we can collect you without delay.
5 Guest Shuttles for fastest turnarounds in Hakuba. Once fitted we drop you back at your hotel with your equipment OR you can ski from any of our three stores and we can drop your walking shoes back at your hotel.
I'm arriving at the Happo Bus (Hakuba Happo Bus Terminal) or Train Station (Hakuba Station)
Online booked guests can call us and we will collect you from Happo Bus or train station when you arrive in Hakuba, fit you in the store and then drop you, your luggage and equipment at your hotel. So easy and eliminates a transfer! Call 0261 85 0506 when you arrive at the terminals in Hakuba and we will collect you and your luggage.
** To avoid wait times. You can call us when you board for your final leg to communicate preferred pickup time. Please do this directly and not through a 3rd party.
Do I have to pre-book my equipment?
You can pre-book your equipment or you can walk-in on arrival.
Pre-booking speeds up the instore process dramatically and helps us better cater for our pre-booked customers needs. There is a comment section at the bottom of each hire form for special requests or any information you think we may to get you better equipped – we do not reply to these comments on the hire forms but they are noted instore when we process your booking. Pre-booked guests get priority.
You can pre book your equipment via our online hire form. The online booking form requires inputting of the same information that you would otherwise supply us with instore, mainly easy to use drop downs.
Online pre-booking requires prepayment in Japanese Yen via our online merchant, Stripe. We accept most credit cards.
You are free to make equipment upgrades or additions instore or swap demo equipment, however, you will need to make your own way to the store. Changes are subject to availability.
What's the difference between Premium - Demo and Standard equipment?
Premium - Demo skis are retail level skis for intermediate and up. We can match skis to skier type, preferred terrain and the current conditions. Premium - Demo skis can be swapped during your stay so you can try different types if required.
Standard/ Executive skis are designed to be easy to turn and control. Helping beginners to low intermediates gain confidence and develop their turns.
What happens if my equipment breaks, is lost or stolen?
Any stolen, lost or damaged equipment is charged for at the discretion of the Rental Manager, you are generally covered under your Travel Insurance, however, we do charge this directly to the customer.
Please see our Terms and Conditions.
What if I want to change equipment?
If you have a boot problem or other, please contact us ASAP so we can rectify it, we want you to be kitted out correctly and to be comfortable.
For returning to the store to change or upgrade to demo gear you will need to make your own way, the free Guest Shuttle if for initial fitout and guests with fit problems.
Are your skis GRIPWALK compatible?
Most of our ski bindings are gripwalk compatible. Please highlight that your boots are gripwalk with your friendly ski technician, and mention in comments if selecting our "Pre-delivery" option.
Got other questions?
Hakuba Central Snowsports endeavours to get you fitted out in the right gear to progress and enjoy. Don't hesitate to contact us so we can learn to better meet your expectations.
We also recommend you check us out on Facebook.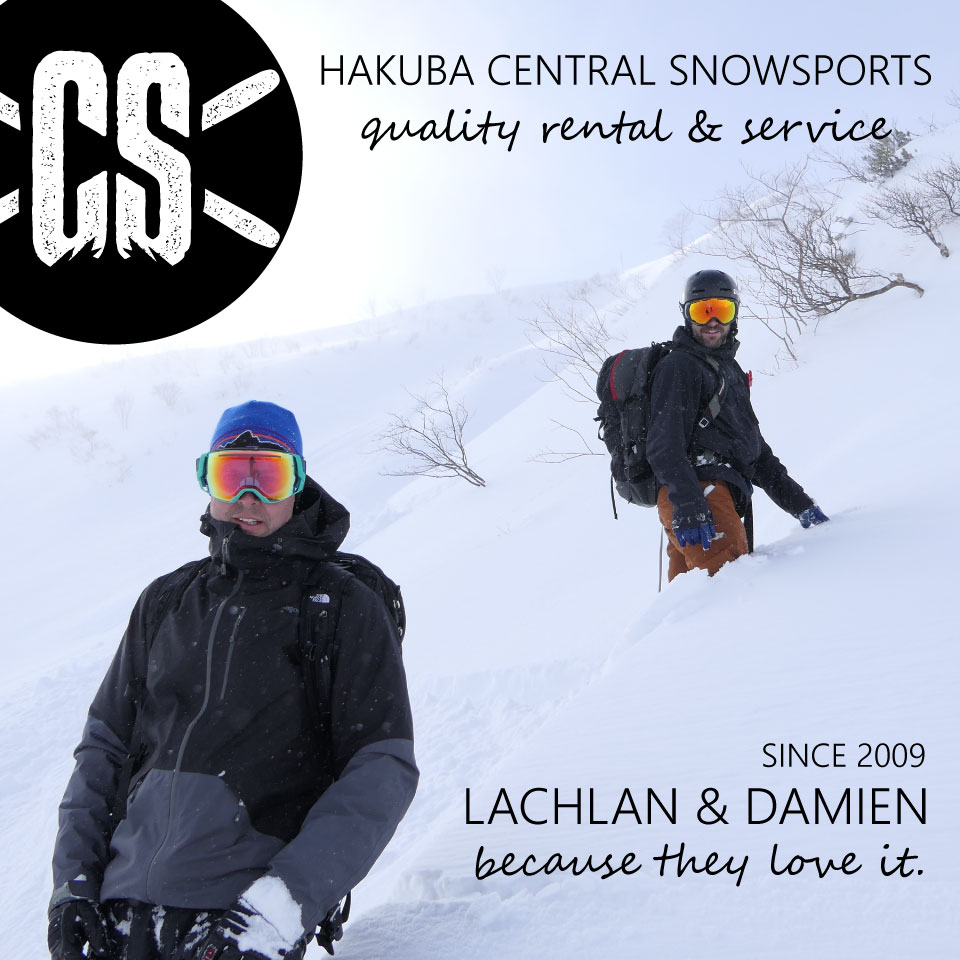 Secure payments
At Central Snowsports, we support payments from major credit cards including Visa, Master Card and American Express to secure your online transactions.
Sign up to our mailing list
Join up now to our mailing list to receive information about upcoming events, and discounts! Your details won't be given or sold to any other organisation.