Bamboo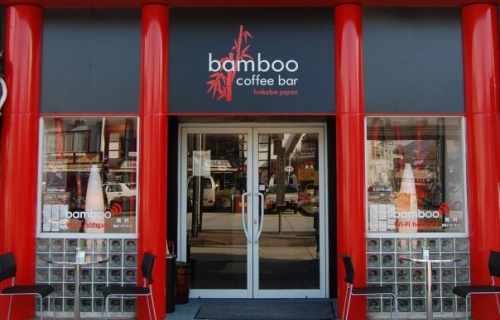 Love Coffee? Then you'll love Bamboo Coffee at Hakuba Station.
Since 2008, Bamboo's mission has been to save Hakuba from mediocre coffee, and every cup of coffee created by Bamboo's Baristas since then has helped Bamboo in it's quest.
So share the love at Bamboo, where j-coffee is consigned to history.
Double Black Restaurant, Bar and Lounge
With it's clean lines and dramatic vaulted ceiling, the restaurant, bar and lounge area of Double Black is specifically designed to offer an atmosphere of relaxation whilst giving our guests a wide range of entertainment options.
Our restaurant offers Western style or traditional Japanese cuisine and one commodity that is hard to find in the valley, a cup of quality coffee from Illy.
Our fully licensed bar is proud to present an extensive range of quality beers, spirits and wines from around the world. Our friendly staff would also be happy to show you our cocktail list, including the house specialty, the " Double Black". For those with an adventurous palette we also stock a range of authentic Japanese drinks including sake, plum wine and a large selection of local beers.
Mimi's Restaurant and Lounge Bar
Mimi's Restaurant is the epitome of decadence. It is our responsibility to produce food of the highest standard to ensure a definitive dining experience for our patrons. We are truly blessed to have the stunning Shinshu produce at our fingertips, which is exceptionally showcased throughout our menu. Drawing on decades of experience, we have been able to create food that is genuine, innovative, beautiful and most importantly, very flavoursome. A visit to Mimi's will leave you with an irreplaceable memory that will highlight your visit to this wonderful part of Japan.
Mimi's Restaurant and Lounge Bar endeavours to showcase the finest local produce Japan has to offer.
Penke Bar and Bistro
A cafe, lounge and social house all rolled up in one, we are happy to offer food service from 7am to 11pm. Featuring an Asian Fusion menu that combines taste with healthy choices, we believe in food as an energy source that will keep you up and running on the slopes. With 12 years culinary experience Head Chef Jaye Rix proudly aims to prepare delicious home style meals guaranteed to keep you coming back for more.
Unbeatable prices of 800-1500 Yen per meal will help keep your costs to a minimum. Maximum flavour, minimum cost!
Tanuki's
Tanuki's at Hakuba Station features individually hand made pizzas and burgers made fresh to moment you order.
So get the ball rolling at Tanuki's, Hakuba's original Sports Cafe – we don't start without you!
Secure payments
At Central Snowsports, we support payments from major credit cards including Visa, Master Card and American Express to secure your online transactions.
Did you know?
We offer free pickup and delivery with accommodation on the mountain
Stocking a wide range of adult and kids helmets
Great standard carve skis from Head
Great Demo packages for all level 2 and 3 riders for all conditions
Twintips for adults and kids
Performance snowboard hire
School and group discounts available depending on size, please contact us for a quote.
Sign up to our mailing list
Join up now to our mailing list to receive information about upcoming events, and discounts! Your details won't be given or sold to any other organisation.